2020 MINI Countryman vs. 2020 MINI Clubman

The 2020 MINI Cooper Clubman and 2020 MINI Cooper Countryman may offer very similar features and characteristics, however, a few subtle variations can make a world of difference. These New MINI SAVs are both unique in their own way and each of them offers an elegant combination of interior space, technology, engine performance and more! Here at Mall of Georgia MINI, we have a great selection of Clubman and Countryman inventory, plus a staff of MINI experts ready to answer any questions our Atlanta shoppers might have!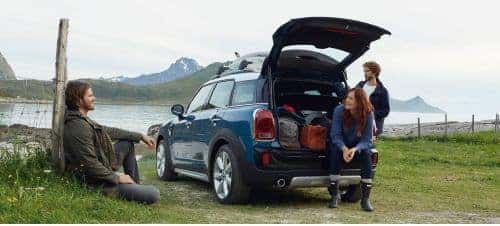 Interior Space in the MINI Cooper Clubman vs Countryman
The 2020 MINI Cooper Clubman and 2020 MINI Cooper Countryman differ slightly in size. In terms of Cargo Space, the MINI Clubman offers 0.3 cubic feet more (MINI Countryman 47.6 cubic feet vs. MINI Clubman 47.9 cubic feet). They each seat five, but the Countryman has four doors, while the Clubman has six. The split rear doors in the Clubman is a convenience feature that allows for easy loading and unloading of bulky luggage and other large items. In the Clubman, you'll get 17.5 cubic feet of Trunk Space. Fold down the rear seats, and the space expands to 47.9 cubic feet. The Countryman, meanwhile, offers almost the same exact numbers, despite not having split rear doors. You get 17.6 cubic feet of Trunk Space behind the rear seats and 47.6 cubic feet when the back row is folded down. When it comes to passenger room, these vehicles are once again pretty neck and neck. For front and rear headroom/legroom, the Clubman is more spacious in almost every category. However, it's only by an inch or two.
MINI Countryman
47.6 Cubic Feet
Seats 5 passengers
4 doors
17.6 Cubic Feet of Trunk Space
MINI Clubman
47.9 Cubic Feet
Seats 5 passengers
6 doors (split rear door)
17.5 Cubic Feet of Trunk Space
Cutting-Edge MINI Technologies in These MINI Models
The MINI Cooper Clubman and MINI Cooper Countryman offer Apple CarPlay™, which avid iPhone users are sure to appreciate. Simply plug your smartphone into the vehicle's USB port and use those apps without ever having to actually touch your phone. This feature gives all Buford driver's confidence and peace of mind while safely navigating the highway. These MINI vehicles come standard with a user-friendly touchscreen Navigation System that makes entering your destination easy. You'll love taking advantage of the Real-time traffic updates that help you get from Point A to Point B in no time at all. Top of the line technology comes standard, so you won't see any variation, between models when it comes to MINI technology!
MINI Technology
Apple CarPlayTM
Touchscreen Navigation System
Adaptive Cruise Control
Comfort Access/Power Tailgate
Powerful Engine Choices
The 2020 MINI Countryman offers a TwinPower Turbo, 1.5-liter, 3-cylinder direct-injection engine with double VANOS. While the 2020 MINI Clubman comes standard with a Twin Power Turbo, 2.0-liter, 4-cylinder direct-injection engine with double VANOS. The Countryman's respective horsepower is 134 hp @ 4400 rpm. While the Clubman features a 189 hp @ 5000 rpm. When it comes to torque, the 2020 MINI Countryman delivers 162 lb-ft @ 1250 rpm; while the 2020 MINI Clubman shows 207 lb-ft @ 1350 rpm. On a flat straight away, the 2020 MINI Countryman goes 0 to 60 in 9.3 seconds, while the 2020 MINI Clubman goes faster at 6.9 seconds. These are both standard engine configurations. The MINI Clubman and MINI Countryman both offer well-rounded performances with agile handling and peppy engine options. The main difference is that the 2020 MINI Clubman weighs 4,343 (lbs) pounds and the 2020 MINI Countryman weighs 3,422 (lbs) pounds, hence the options in engines for each model and extra space convenience in the Clubman.
Safety
Each of these MINI models offers buyers Active Driving Assistant, a camera-based driver assistance feature that includes Forward Collision Warning (FCW) and Automatic Emergency Braking (AEB). Forward collision warning is a feature that warns you if you start to get too close to a person or vehicle. Automatic Emergency Braking is a feature that automatically brakes for you in the case that you are getting too close to an object and unable to brake in time. The MINI Countryman and Clubman both offer Adaptive Cruise Control, another safety feature that uses onboard cameras to help maintain a safe, consistent distance between you and the car in front of you.
Active Driving Assistant (FCW / AEB)
Adaptive Cruise Control
8 Airbags
LED Headlights
Ultra Rigid Body
In Closing
The 2020 Countryman starting at $28,400 and the 2020 Clubman starting at $30,900 are both excellent MINI car options. They each have subtle differences but both models come heavily equipped with advanced technology that provides value and safety for all types of consumers. For more information about the MINI Clubman and MINI Countryman, feel free to contact us or stop by our MINI dealership, Hendrick Mall of Georgia MINI, located at 3751 Buford Dr, Buford, GA 30519, conveniently near Atlanta and Duluth where our MINI experts can answer all your questions and take you for a test drive today!